Many friends who often look at the mushroom mushroom blog are website owners, and online monitoring of websites has always been an issue that website owners need to consider. Sometimes, the website server may suddenly go down. If we fail to notice, the website will be inaccessible for a long time, a large number of visitors will be lost, and it will have a very big impact on the search engine inclusion. Therefore, we usually need to use some online monitoring tools to monitor the status of our website.
Today, I want to recommend one of the best online monitoring tools for websites and servers that I have found after a long time, HetrixTools. This online monitoring tool can not only monitor the online rate of the server or website in all directions, but also have many practical and useful Convenient function. It can automatically monitor the validity period and validity of SSL, which is very convenient for websites using three-month certificates such as Let's Encrypt; it can monitor the domain name expiration time and make a reminder before expiration. It supports SMS (50 free messages), Telegram push , email, Discord, API, etc. more than ten notification methods, notify you when your website is offline, so that you can handle it with the fastest speed. It can also monitor the IP address of the website, so that you can deal with the IP of the blacklist in time. The most important thing is that all of these are free!
Below, I will tell you how to use HetrixTools to monitor online information on the website. The author of this article is Shiitake Mushroom, the original link is https://qing.su/article/150.html , please indicate the original link when reprinting. Thank you!
First, we click on the link below to register an account.
https://hetrixtools.com/uptime-monitor/897622.html
Registering an account using my link allows you to add 3 additional website and server monitoring tasks, and an additional 16 domain name / IP address blacklist detection records.
Click Start Monitoring Now for Free in the middle of the screen, a registration page will pop up, fill in your email and password to register successfully.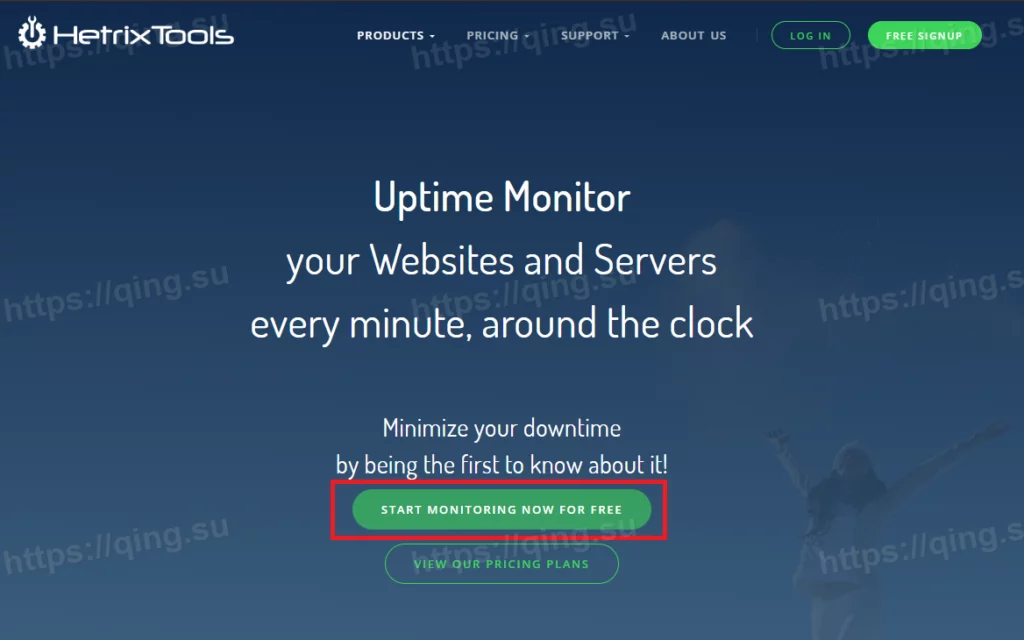 After registration, please click the confirmation link in your email. Then we can log in to the background, as shown below.
Enter the background, before adding a website, we first add the website notification method. Click on Contact List in the picture above to enter the contact notification interface. Here, we can add many notification objects and manage notification methods. If we only need to notify ourselves, then just modify the default Default Contact.
After registering an account, your email will be used as the default notification method. However, email notifications sometimes do not allow us to check them in a timely manner. At this time Telegram notifications are very important. Configuring Telegram notification requires our TG account to be bound to the HetrixTools robot. We are opening TG, search hetrixtools_bot in the top search bar, and follow. As shown below.
In the robot interface, enter / start, you can get a string of numbers, for example, I am 88888888. Copy this string of numbers. Then return to the HetrixTools website interface:

Click the Edit button in the Contact List just now to enter the TG binding page.
Enter the string of numbers you just copied here and click Edit at the bottom to save it.
After setting up Telegram push, we next add a website and deploy monitoring tasks. Click Tools –> Uptime Monitors in turn to enter the online monitoring control panel. Then, click Add Monitor, as shown below.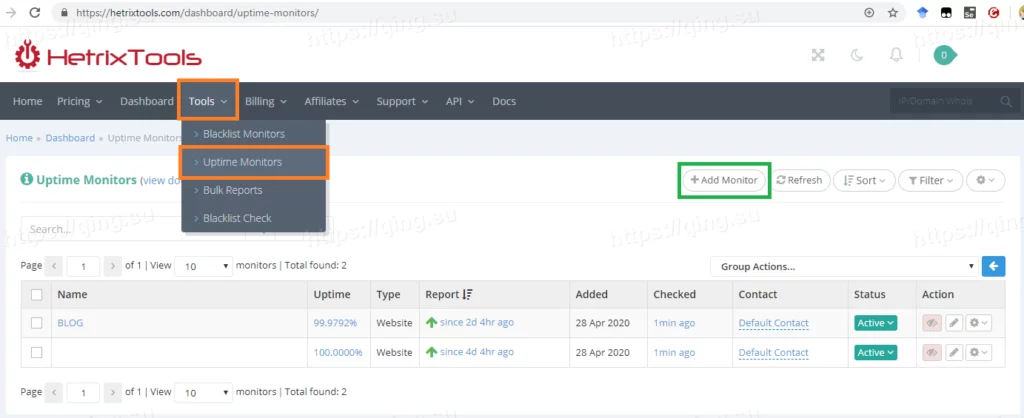 There are four choices for the monitoring type, namely website, PING, SMTP, ServerAgent. For ordinary websites, select the type of website (Website). Then we fill in the website information.